Hey guys, first of all let me give a big thank you to everybody who linked up yesterday for the very first Manic Monday. I believe I'll be co-hosting again next week so be sure to stop by and link-up again!
A month ago I signed up for two different swaps: Project Inspire & Cara Box. These were so much fun and I am so happy I got a chance to be a part of them both. I got to meet such wonderful ladies and received such fun things in the mail.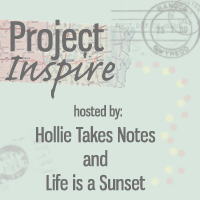 Project Inspire
Megan sent such a sweet card with a bunch of cut outs with inspirational quotes on them. My favorite quote was "let what you love be what you do"! Which was written on the cute little red card in the middle. Thanks so much for the sweet little reminders!

Cara Box
Allie sent me some really sweet things - the vanilla lotion and the pumpkin candle smell really good and the earrings are too cute! I love everything. I couldn't be more happier with my swap partner :D Thanks girly!
Well, that's all for now! I hope everybody has a good week and happy Halloween!