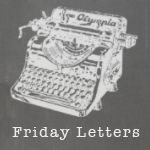 Dear Blog,
I'm sorry I haven't been on board with writing in you. I promise I'll be better!
Dear FL,
Please stay nice & sunny so I can get a tan before the winter comes.
Dear Previous Letter,
Haha. I almost forgot we don't get a winter! What was I thinking?
Dear Future Tattoo,
I think I know what you're gonna be. I just gotta lost 15 lbs first.
Dear Unhealthy Food,
We're over! Stop trying to pop back in my life.
Dear Lady Gaga,
See you in March <3
Dear Followers,
Don't judge me!! haha.
Dear Hair Bleach,
Please work your magic when I redo my hair tomorrow.