"Pretty Little Liars" is one of the few shows I'll sit through. Lucy Hale, of course is my favorite liar. Team Ezria!
I remember watching her on "The Sisterhood of the Traveling Pants 2" and not caring that she almost took Brian from Tibby - because she was pretty! Usually I feel bad for "the victim".
I think Selena Gomez could pass as her little sister. They have so many similarities it's crazy!
I have yet to see "A Cinderella Story: Once Upon a Song". That fact even surprises myself.
Does anyone else remember seeing her on "Wizards of Waverly Place" as Justin's girlfriend?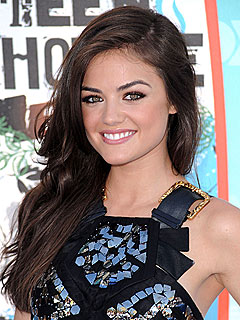 I just love her style! I wish I could rob Aria's closet!
Enough said. Isn't she gorgeous?!