Today I'm linking up for Top 2 Tuesday to tell you all about my favorite celebrity hairstyles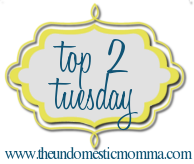 .aka. Maxi from General Hospital
She makes me want short hair, unfortunately it wouldn't look good on me!
Her hair is one of the reasons I watch GH, as weird as that sounds. Lol.
2. Miley Cyrus
Ever since I first saw her, I always thought she had such pretty hair and it just got better and better over the years.
I love how long & wavy it is,
Plus its ALWAYS such a pretty color